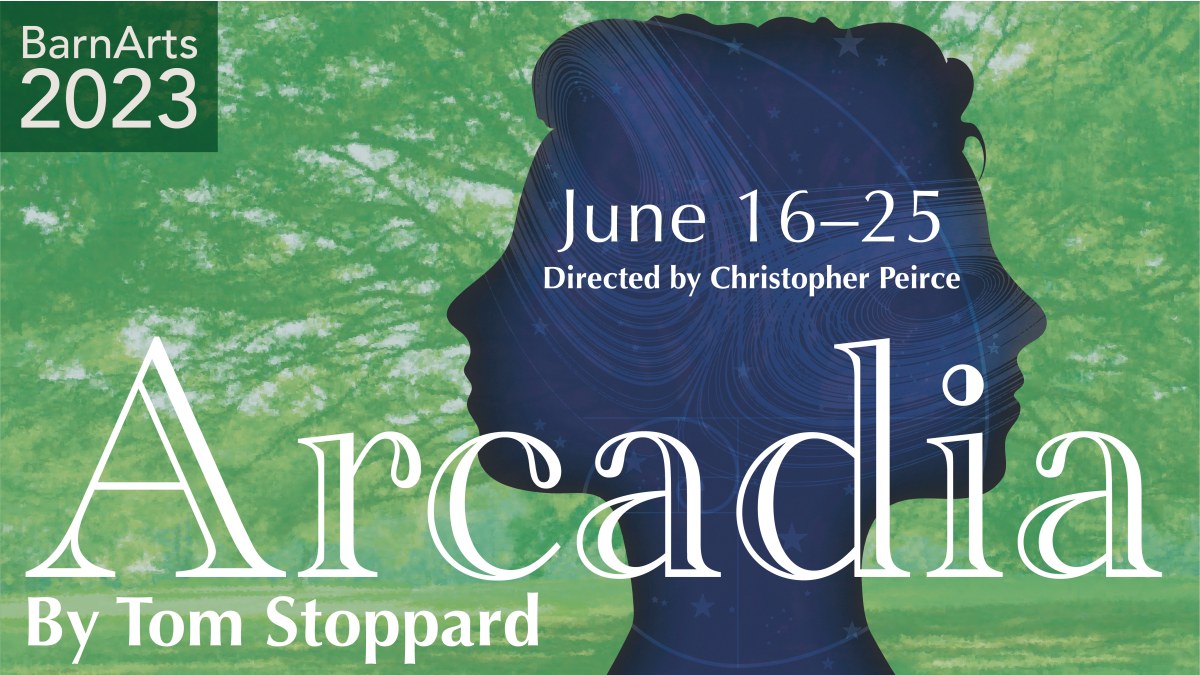 ARCADIA
by Tom Stoppard
Directed by Christopher Peirce
AUDITIONS
First Universalist Church of Barnard, 6211 Rt 12
Tues & Wed, April 4 & 5 – 7-9 pm or by appointment
Production Dates:
June 16-25
Production Location:
Outdoors in Barnard, VT
10+ roles, 9-60 years of age
All genders welcome
Rehearsals begin in late April
Arcadia
Tom Stoppard's Arcadia explores the nature of history, ambition, and love alongside a mind-bending experience of real-time quantum mechanics. Two complex tableaus of characters occupy the same pastoral English setting but in two eras: the early 19th Century and the present day. Events converge and timelines cross in this critically acclaimed play named "one of the best science-related works ever written" by the Royal Institution of Great Britain.
Arcadia Character Descriptions
Characters of 1809
Thomasina Coverly – 13 (Later 16) The gifted and intelligent daughter of Lord and Lady Croom. It's fair to say she's a genius, developing principles of chaos theory and thermodynamics far before the scientific community established either. Outgoing, inquisitive, mischievous. Her focus is split between academic and romantic (carnal) knowledge, and she pursues both concurrently.
Septimus Hodge – Mid 20s-30s. An academic. Thomasina's tutor.  Confident, Intelligent, charming, and somewhat arrogant. Early in the play he has multiple affairs with the various women of the house. Later he falls in love with Thomasina.
Ezra Chater – 20s-30s. An aspiring poet and amateur biologist (poor at both). His wife Charity Chater (never seen) regularly has affairs with the men of the estate.
Jellaby – 40s-50s. The butler. Distinguished. Disapproving. A gossip.
Richard Noakes – Middle-aged (flexible). The estate gardener. Continually reworking the landscape from something timeless into something organic.
Lady Croom – 40s-60s. Every inch the lady of Sidley Park. Strong, commanding, powerful. She is the ruler of her own little world. She does not give suggestions, she gives commands.
Captain Brice – Middle-aged (flexible). A sea captain. Lady Croom's brother. A seemingly upstanding gentleman, secretly having an affair with Charity Chater.
Augustus Coverly – 9-12. Thomasina's younger brother. A troublemaker. (Augustus and Gus are played by the same actor) 
Characters of the Present Day
Hannah Jarvis – 30s. An academic and author. Feisty, self-possessed. Hannah is compelled by the principles of academic knowledge, rejecting romanticism. She reluctantly works alongside Bernard Nightingale to research Sidley Park despite their antithetical approaches.
Bernard Nightingale – 30s. An academic theorizing erroneously that Lord Byron killed Ezra Chater in a duel at Sidley Park. Smarmy, fame seeking, foppish. He seeks recognition rather than understanding, and portrays the side of romanticism and carnal knowledge opposing Hannah's academic principles.
Chloe Coverly – 18. The modern day equivalent of Thomasina (although not quite so brilliant).
Valentine Coverly – 20s-30s. Chloe's older brother. A mathematics graduate student.
Gus Coverly – 9-12. Chloe's younger brother. Mute. (Gus and Augustus are played by the same actor) 
[/lightweight-accordion]