BarnArts 11th Annual Summer Youth Theater!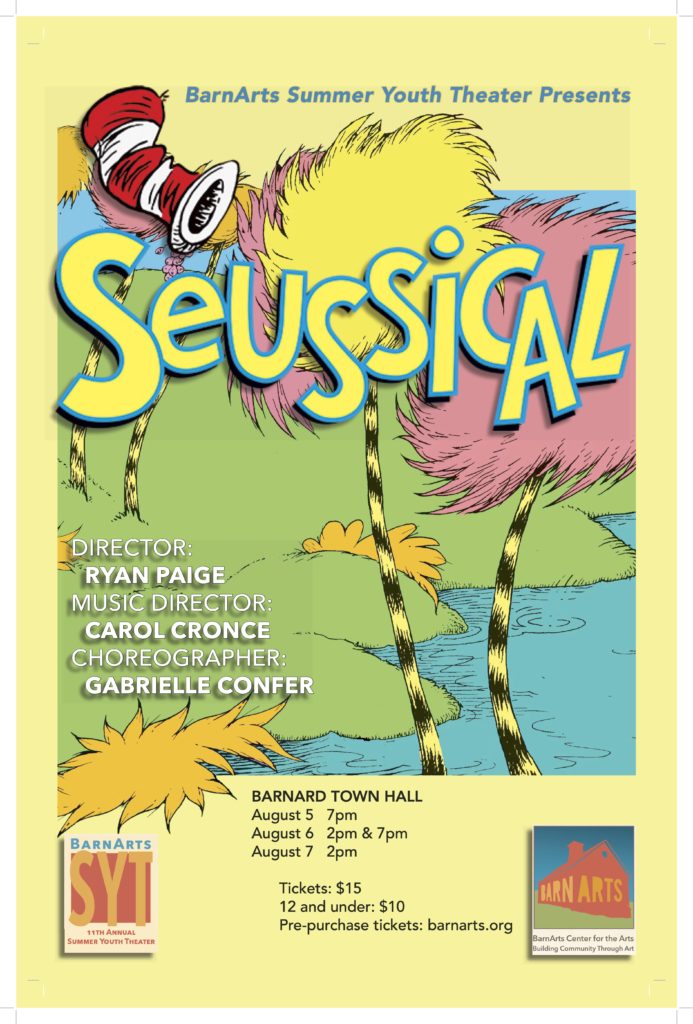 Director: Ryan Paige
Music Director: Carol Cronce
Choreographer: Gabrielle Confer
Costume and Prop Design: Aura Paige
Set Design: Linda Treash
The irreverent Cat in the Hat and his side-kicks (Thing One and Thing Two) lead this journey through the magical Jungle of Nool where Horton the Elephant discovers the vulnerable world of Whoville, a microscopic planet living on a speck of dust.  Meanwhile, Who child Jojo is sent off to a military school (headed by General Genghis Khan Schmitz) for "thinking too many thinks." The plot thickens around Horton, as not only must he protect the Whos (Jojo, Jojo's Mayor parents, and the many Whos of Whoville) from a world of dangerous naysayers (The Wickersham Brothers, The Sour Kangaroos, Vlad Vladikof) but he must guard an abandoned egg, left in his care by the irresponsible Mayzie La Bird, who disappears from the jungle with her band of bird girls. Although Horton faces ridicule, danger, kidnapping and an all-characters trial presided by authoritarian Judge Yertal the Turtle, Horton's intrepid admirer, Gertrude McFuzz, never loses faith in him. The powers of friendship, loyalty, family and goodwill are challenged in this boisterous musical and ultimately emerge triumphant.  "A person's a person no matter how small!"
The humor and heart of this lively story come to life in this energy filled and intimate theater program limited to just 30 kids. During the 3-week camp, youth will take on characters, learn songs and dancing, and prepare for the full-scale production to be held at the Barnard Town Hall with original staging, costuming, choreography and a live band! Our team of theater professionals will teach, guide and inspire your kids. Daily schedule includes a mid-morning snack and a long break for lunch, supervised outdoors at the Barnard Academy.
Performance Location: Barnard Town Hall
AUG 5 - 7PM
AUG 6 - 2PM & 7PM
AUG 7 - 2PM
TICKETS:
$15 - Adults
$10 - 12 and Under
Doors and windows will be open and masks will be required in the audience.
Camp Dates: July 18-Aug 7
Performance Weekend: Aug 5-7
Hours: Monday-Friday, 9:30am-3:30pm (possibly until 4:30 during final week)
Camp Location: Barnard Academy
Performances: Barnard Town Hall Aug 5, 6, & 7
Cost: $450 thru April, $500 starting May 1st.
For Youth ages 8-18
Scholarships, and before and after-care available
Registration priority is given to returning families and only a few spaces remain.
Fill out this form for new students:
Seussical Reg Form New Students 2022
No audition is required to be in our camp, however it is a three week theater camp, which is a lot of singing, acting and dancing.  All participants need to be committed to the experience of youth theater, community and fun!
Summer Youth Theater registration fee refund policy: A full refund is available by written request before May 1, 2022.  A 50% refund is available by written request before June 1. Starting June 1st, no refunds will be available.